Home

Police Band mesmerises audience at Mysore Palace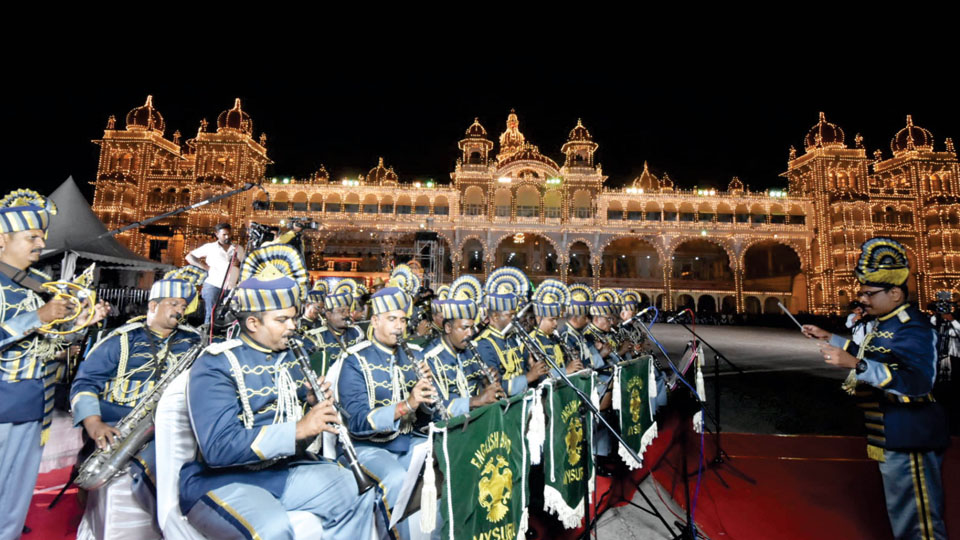 Police Band mesmerises audience at Mysore Palace
Mysore/Mysuru: Classical and western instrumental music performed by the Karnataka Police Band mesmerised the regulars at Mysore Palace premises last evening.
The performance was a huge hit on the fourth day of Dasara cultural programmes, stuff held as part of Dasara – 2023 with the prod treated to the sound of music that flawlessly flowed by the performers of the wreath to multiple songs and tunes.
The music regaled the audience, with Home Minister Dr. G. Parameshwar, District Minister Dr. H.C. Mahadevappa, MLAs Tanveer Sait, T.S. Srivatsa and K. Harishgowda, Mayor Shivakumar, Deputy Mayor Dr. G. Roopa, Deputy Commissioner Dr. K.V. Rajendra, DG&IG Dr. Alok Mohan, DIGP (Southern Range) Dr. M.B. Boralingaiah, City Police Commissioner B. Ramesh, DCPs, ACPs and other dignitaries in attendance.
The Band, led by Group Captain Gopinath, welcomed the guests and dignitaries by playing Royal Fanfare, which enthralled the audience. Later, the Wreath members came to the centre by playing Hansie Lushai.
While the English Wreath played Freddy Mercury's 'We are the champions,' L.V. Beethoven's 5th symphony, 'Levitating and Bailamos' well-balanced by Lua Dipa, 'Shaan' theme and 'Bahama Mama' of Boney M, Karnatak Wreath played 'Gajananayatam' well-balanced by Muthuswamy Dixit, 'Ranjini Niranjini' well-balanced by late S,P. Balasubramanyam, 'Naadamaya' with lyrics by late Chi. Udayashankar, 'Apaara Keerti Mereda Bhavya Naadidu' etc.
The English and Karnatak Wreath members together played Patriotic Fusion Music and all the Wreath came together to play Drummers' Delight and the song 'Abide with Me' played with Tubular Bells unprotected the sustentation of all. The Bands marched from the centre with 'Saare Jahaan Se Achha.'
Winners
In the Big Wreath category, Mysuru's KSRP 5th Battalion unsober the first prize and Hassan's 11th Battalion came second. Home Minister Dr. G. Parameshwar gave yonder the prizes.
In the Medium Wreath category, Shivamogga's KSRP 8th Battalion unsober the firest prize and Bengaluru's KSRP 4th Battalion came second.
Small Wreath Category: Udupi's DAR team came first followed by Belagavi's KSRP 2nd Battalion in the second.
English Wreath Captain B. Manjunath and Karnatak Wreath Captain received special prizes.
The programme ended with the musical rendition of 'Vande Matharam.'
You Might Be Interested In