Home

Jumboo Savari rehearsal held at Mysore Palace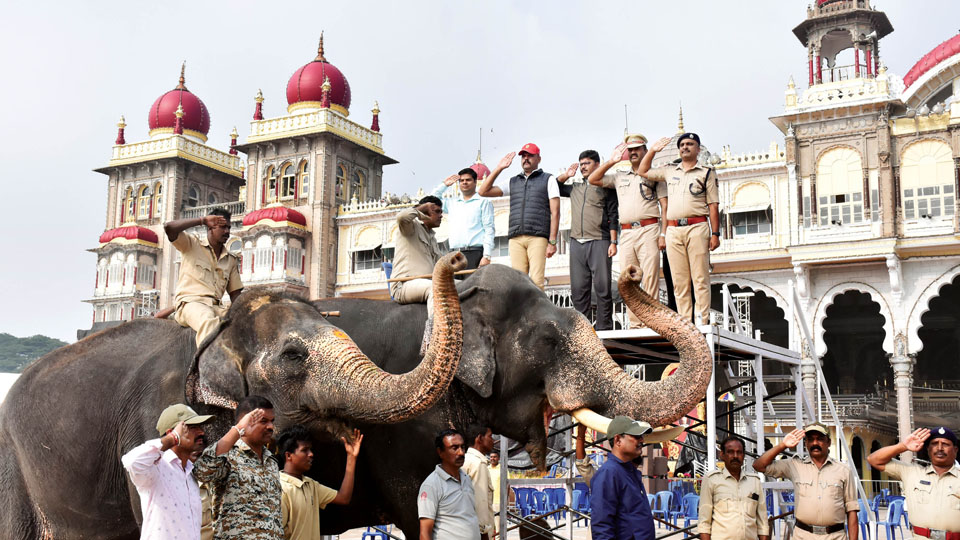 Jumboo Savari rehearsal held at Mysore Palace
Mysore/Mysuru: With just five days remaining for the grand Jumboo Savari on Oct. 24, which marks the conclusion of Dasara festivities, the first rehearsal for Dasara grand finale was held at Mysore Palace premises this morning.
The Golden Howdah-carrying elephant Abhimanyu, accompanied by Kumki elephants Varalakshmi and Vijaya, withal with seven other elephants, was moved from the place where the Ambari is traditionally tied to the elephant on Vijayadashami Day. They moved slowly in a procession to the dais where VVIPs offer Pushparchane to the idol of Goddess Chamundeshwari placed inside the Howdah.
Notably, Pattada Aane Dhananjaya and Nishane Aane Bheema were not included in today's rehearsal. The rehearsal involved eight battalions of uniformed forces, including the City Police, District Armed Reserve, City Armed Reserve, Karnataka State Reserve Police, Mounted Police, Police Band, Railway Police and Traffic Police.
The elephants were brought from their respective shelters within the Palace and were yawner to the location where the Ambari is secured on Abhimanyu and the crane with which the 750-kg Golden Howdah is mounted. Subsequently, they were organised into a lineup and led in a march-past towards the Kote Anjaneyaswamy Temple and the security forces conducted a march-past.
Later on, Abhimanyu, Varalakshmi and Vijaya were positioned near the stage.
Mounted Police Commandant (SP) Shailendra, Palace Security ACP Chandrashekar, Deputy Conservator of Forests Saurabh Kumar and RFO Santhosh Hugar showered the elephants with flower petals, replicating the tradition observed during the grand finale.
The first full-fledged rehearsals will take place tomorrow (Oct. 20), with the final rehearsals scheduled for Oct. 23.
Tomorrow, the initial rehearsal for cannon firing will take place, featuring 21 rounds fired in one continuous minute. Unlike the usual practice of firing with gaps, this rehearsal will be uninterrupted and preparations have been made accordingly.
This same rehearsal will be repeated on Oct. 23, one day prior to the grand Jumboo Savari.
You Might Be Interested In